The X Factor contestant showed off her figure in plum dress.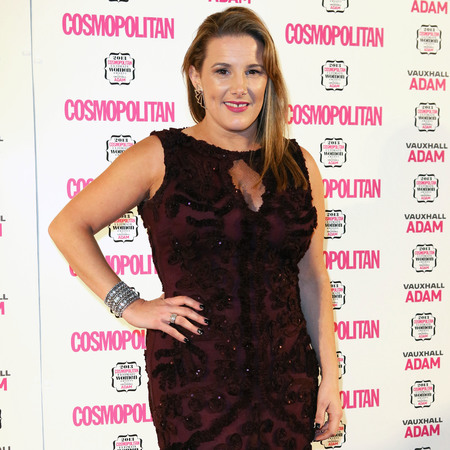 Sam Bailey wowed the crowds at last night's Cosmopolitan Ultimate Women Awards in London.
The
X Factor
2013 star and mother-of-two, who is the only female contestant left in this year's competition, showed off her curves in a plum-coloured Phase Eight dress.
It has been revealed that
Sam will be performing Elton John's Candle In The Wind and Beyoncé's If I Were A Boy
in the semi-finals of
The X Factor
tomorrow night.
Read our interview with Sam below:
Your makeover looks amazing – what was your family's reaction?
My husband hasn't seen me in a dress for over seven years – so he was a bit shocked when he saw me on the first live show. I usually wear jeans and hoodies when I go out but I know I can't go on live television dressed like that! The people backstage have been lovely to me but it's all so new.
How are you dealing with the pressure of the live shows? Do you get nervous?
Not when I'm singing – that's the easy part. But I do get nervous about where I have to stand on the stage and which camera I am supposed to look at. You are given a lot of instructions before you go on and sometimes I forget what they tell me. I also get nervous watching back my performance. I know I can do better – but I'm learning every week.
What is it like working with Sharon – how hands on is she?
Sharon and I get on like a house on fire. When we sit down to chat about songs I don't feel like I'm talking to Sharon Osborne, I feel like I'm talking to a mate. We are both mum's and are both protective of our children. We have a good bond. Even when she has to travel back to America she will always call me for a chat to see if I'm happy with things.
Have your children been to see you perform on the show?
Yes, both my younger two came for the first live show and when I came out to see them afterwards my younger son said to me 'mum what you wearing that dress for?' It's all a bit strange for them I suppose. But if I'm honest I'm only doing this to try and help my kids have a better life.
What do your work colleagues make of your performances – have you spoken to them?
Yes I went back to the prison last week and a bunch of work mates are coming down to see the show next week. The buzz around the prison has been amazing and everyone has been really supportive. It sounds weird but in a way I miss my job.
What is like to be recognised on the street – you have had a lot of publicity?
When I go home to Leicester I don't get noticed because I have my old clothes on. When I'm in London, or at the studio there are always people shouting my name and asking for autographs. It's an odd feeling – but a good one.
There is already a lot of women who are watching you and backing you to win. Are you surprised?
Yes I am surprised. The feedback has been really incredible. I think people realise I'm just an ordinary mum who is chasing a dream. I'm lucky, not many people get the opportunity I have been given to make my life better – that's all I'm trying to do – change my life for my kids.
How far do you think you can go on this show – can you win it?
I will try my best but it's not in my nature to look into the future and say yes I can win this because there are better singers than me in this competition. I think I'm learning every week and I know I can do better than I have. If I do my very best, I may have a chance.