Try the diet favoured by the likes of Coleen Rooney with our diet plan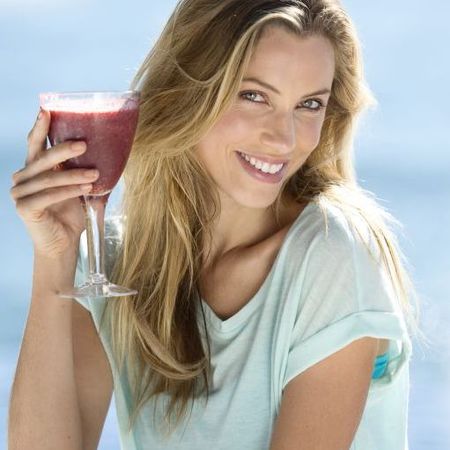 The quickest way to get your five a day this summer is through juicing your favourite fruits, vegetables and salad ingredients. And every slurp provides your body with easy-to-digest 'live' nutrients that feed every cell with the vitamins and minerals they need for you to stay fit and healthy and to boost energy levels.
And as the average juice contains around 200 calories, which your body burns faster (it's in a form that's easy to break down and helps prevent bloating) you'll notice the slimming effects of the plan in days. Replace a meal a day with a healthy juice and have a juice on the go when you need an extra boost.
So if you need to lose weight quick and in only a few days - follow our three-day juice plan and you could lose 3lbs.
Day OneBREAKFAST
Red pepper and orange blast: Whizz together 2 carrots (topped and tailed), 1⁄2 red pepper, 2 clementines.
LUNCH
1 wholemeal wrap filled with shredded lettuce, tomato and red onion slices, 30g cooked chicken and 1 tsp salsa.
DINNERMediterranean cod:
Bake 1 medium cod fillet with 1 can chopped tomatoes with garlic and herbs and 1 chopped green pepper for 20 mins. Serve with 30g dry weight brown rice,1⁄2 bag salad leaves drizzled with 1 tsp oil-free dressing.
JUICE ON THE GO
Totally tropical:
Whizz 1 kiwi, orange, 1⁄2 mango, a few raspberries. Add fizzy water.
Day TwoBREAKFAST
1 free-range egg, poached, 1 slice wholemeal toast, 3 grilled button mushrooms. Handful of grapes.
LUNCH
Spinach sizzler:
Combine 1 stick celery, 2 tomatoes, 2 handfuls fresh spinach, 2 carrots topped and tailed, 1 green apple, some ice.
DINNER
1 chicken fillet brushed with 1 tbsp green pesto, 30g dry weight wholewheat spaghetti, 3 tbsp each broccoli and sweetcorn.
JUICE ON THE GOMelon magic:
whizz up 1⁄2 ripe honeydew melon, small bunch seedless grapes, handful strawberries, 3-4 mint leaves.
Day ThreeBREAKFAST
30g granola-style cereal topped with 1 tbsp natural yoghurt and a handful of 1⁄4 blueberries.
LUNCHCrunchy Greek tuna salad:
Toss together 1⁄2 crunchy lettuce shredded with green pepper, cucumber and tomato slices, 30g crumbled feta cheese and 1 small can no- drain tuna. Drizzle with 1 tsp oil-free dressing. Serve with 1 wholemeal pitta.
DINNER
Juice 4 broccoli florets, 2 spring onions, 1⁄2 small cucumber, 3 tomatoes, handful parsley, juice of 1 lime.
JUICE ON THE GOStrawberry surprise:
Whizz together 1 banana, 6 strawberries, 1 orange, 1 tsp vanilla essence, handful ice.