Do you carry extra weight around your tummy and hips and dread bikini season? Don't worry, it might not be your fault. Latest research reckons us ladies sometimes suffer from hormones going haywire.
American hormone and diet specialist, Dr C Randolph, reckons sometimes women don't have enough of the sex hormone, progesterone, and too much oestrogen which acts like a fat magnet, locking in fat around our middles, softening our shape and making us moody.
The good news is we can reduce the effects of too much oestrogen by eating foods, which don't stimulate it and instead flush it out. So we've come up with a great diet to help you get in your bikini and balance you out a treat.
How it works
• Choose one breakfast, lunch, dinner and two snacks each day from our pick 'n' mix meal plan (below). If you're hungry feel free to snack on unlimited amounts of crudités.
• Drink at least eight glasses of fluid daily. Water, herbal tea and sugar-free cordial can be drunk freely. You can also have decaffeinated tea and coffee with milk from your allowance (below). No booze, sorry!
• Daily milk allowed: 300ml skimmed milk.
Breakfast
• Smoothie made from 1 low-fat yogurt, a splash of skimmed milk, 1 banana, 1 orange, 6 strawberries, 1 handful raspberries, and 1 handful of flaxseeds.
• 2 poached eggs served with unlimited grilled mushrooms and tomatoes. 150ml glass orange juice.
• 40g Brankflakes with milk from your allowance. 1 banana.
• Fruit crunch: 1 apple, 1 orange, a handful of grapes, all chopped and mixed with 4 tbsp muesli. 1 glass of skimmed milk.
• 2 oatcakes topped with 100g of salmon slices and 1 egg, scrambled with a splash of skimmed milk, served with grilled tomatoes.
• 2 slices of toasted wholemeal bread with low-fat spread and 4 tbsp baked beans per slice.
• Fruit Salad: 100g blueberries, 1 satsuma and 1 chopped apple, topped with 1 pot of low-fat yogurt and a handful of seeds.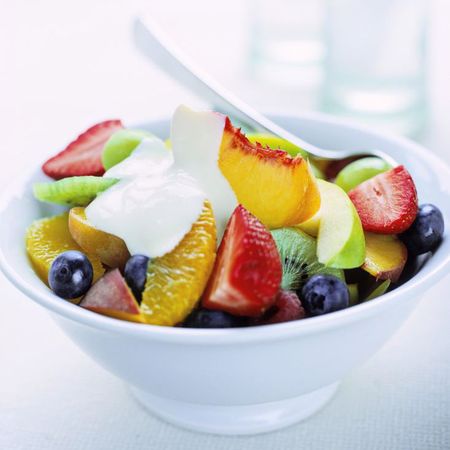 Lunch
• Tuna Nicoise salad: small can of tuna in springwater, 1 boiled egg, 6 olives and unlimited green beans, tomatoes, celery, cucumber, onion and lettuce. 1 slice of wholemeal bread.
• 1 small can of sardines in tomato sauce, served on 2 slices of toasted wholemeal toast with low-fat spread.
• Medium jacket potato with low-fat spread and 3 tbsp low-fat cottage cheese and a side salad.
• Two slices of wholemeal bread with low-fat spread and 2 thin slices of low-fat cheddar and salad. 1 low-fat yogurt.
• 1 can of lentil soup sprinkled with a handful of seeds. 1 wholemeal roll.
• 1 wholemeal pitta stuffed with two handfuls of cooked prawns mixed with 1 tbsp of low-fat mayonnaise and salad.
• Any prepacked salad under 350 calories.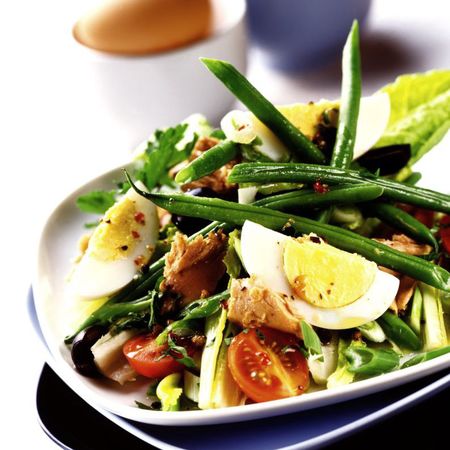 Dinner
• Cheese and mushroom omelette: Mix 2 eggs with a handful of mushrooms and fry in 1 tbsp flaxseed oil. Serve with a salad and wholemeal roll.
• Turkey stir-fry: Fry a turkey breast, cooked and torn up, with 1 chopped up courgette, green beans, mushrooms, ½ pepper and spring onions, all cooked in 1 tbsp flaxseed oil, (use low-fat cooking spray for extra oil). Serve with a handful of cooked noodles.
• 1 grilled chicken breast served with a small jacket potato, sprouts and broccoli.
• 1 grilled salmon fillet served with unlimited carrots and broccoli. 1 pot of yogurt and 1 handful of berries.
• 2 salmon fishcakes served with roast veg: 1 roast pepper, 1 courgette, 6 mushrooms, 3 tomatoes, all chopped and cooked in 1 tbsp flaxseed oil. 1 baked apple sprinkled in cinnamon.
• Chicken salad and couscous: Grill a chicken breast and serve roughly chopped with a cup of cooked couscous and a salad of 50g chickpeas, chopped tomatoes, cucumber and lettuce. 1 small low-fat yogurt.
• Bean chilli: Combine 1 can of kidney beans in chilli sauce with 1/2 can of chopped tomatoes, 1 onion, ½ pepper and ½ courgette, all chopped and simmered until softened. Serve with 3 tbsp boiled brown rice.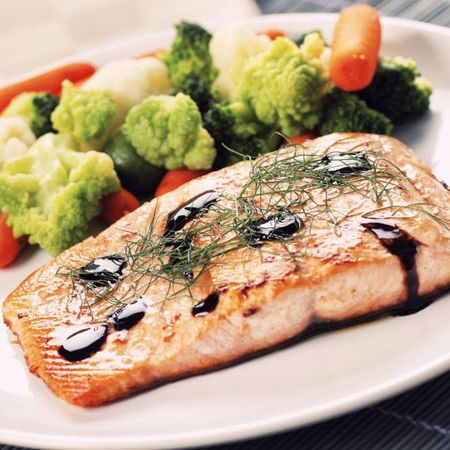 Snacks
• 1 piece of fruit
• 1 handful of berries/strawberries
• 1 handful of nuts or seeds
• 1 low-fat yogurt
• Celery and 1/3 tub of low-fat cottage cheese
• 1 cup-a-soup
• 2 Ryvitas
Please see your GP before starting a new weight loss regime